The Сherkasy autochemistry plant held a corporate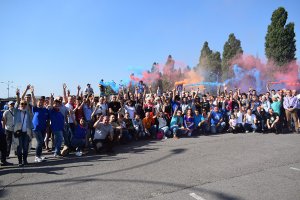 The Cherkassy Autochemistry Plant held a corporate in a warm family circle, but with company-specific scale! This year it was held in the format of the auto quest, in which employees of the company were able to check not only the knowledge of the traffic laws but also compete in agility, endurance, and erudition. Participants in each of the 14 teams had to solve intellectual tasks, to compete in speed and agility.
23 years – exactly, so many of the Cherkassy Autochemistry Plant works in the market. During this time we became one of the largest manufacturers of technical fluids for the automotive industry. Trademarks ChAP (VAMP, POLUS, GOSTovsky product, ALTAIR, ZZIMA) are chosen by motorists, not only in Ukraine but also in many countries of the world.
ChAP company is a team of like-minded professionals for whom there are no unsolvable tasks! Quality and high level of service – that's why we value all these years.