VAMP RE-BRANDING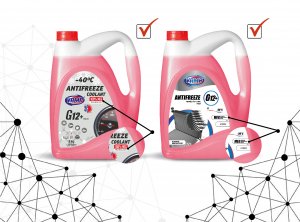 Dear partners and buyers of products of Cherkasy Autochemistry Plant!
We are pleased to inform you about rebranding of VAMP trademark. Having changed the external style, the products still meet the standards of quality.
The range of VAMP ready-made antifreezes, antifreeze concentrates and tosol cooling agents is expanded to more than 170 positions in blue, red, yellow, green colors. In addition, for the consumers' convenience, the range of all types of coolants will be presented in the following containers: 1l, 3l, 5l, 10l, 20l, 30l, 60l, 200l. You can see two types of products:
premium antifreeze and tosol cooling agents containing monoethylene glycol;
coolants containing propantriol.
The company Cherkasy Autochemistry Plant supports the principles of diversity and seeks to anticipate customer needs. The visual basis of the new branding was the 3D logo in English. The products having an updated design are already partially presented on store shelves. The products are manufactured with a top-class two-component cap for protection from counterfeit (to learn more about new VAMP products protection class see here). Label design changes began in October 2019 and will have been finished by December.
The renewal of engine oils, brake fluids, solvents, windshield washers and car care products will be next. More information about the products can be found at www.vamp.ua (an online form of communication with customers was created for it).
ATTENTION! For some time, products will be on sale in both new and previous designs.