NEW VAMP PRODUCTS PROTECTION CLASS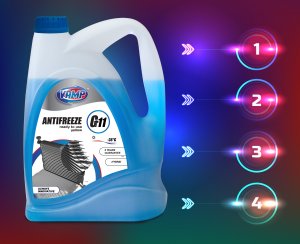 The new anti-counterfeiting technology serves to protect VAMP brand buyers from purchasing non-original products. Now the full range of VAMP brand coolants, motor and transmission oils, car chemicals is equipped with a new cap.
VAMP PRODUCTS COUNTERFEIT – HOW TO SINGLE OUT THE ORIGINAL?!
1. THE CAP. Each VAMP canister is equipped with a top-class two-component cap, which is made of high quality plastic and block. The original VAMP product caps have no defects or inequalities, etc.
2. CANISTER NOZZLE is sealed with aluminum foil to avoid spillage during turnover of the canister and serves as additional protection against fake.
3. THE CANISTERS ofown design, exclusively developed for the VAMP brand product range. The containers are made of high quality plastic using modern equipment.
4. IDENTIFICATION MARKS.The production date and batch number are stamped on the canister immediately after bottling. Each batch of products passes multisample quality inspection.
The company Cherkasy Autochemistry Plant is engaged in the manufacture of containers for more than 20 years, and seeks to protect customers from counterfeit of both canisters and caps. We constantly study the market, improve our production and improve the customer service.