VIRUSAFE sanitizers from Cherkasy Autochemistry Plant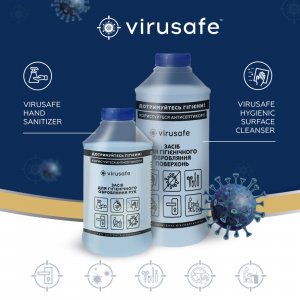 Disinfection and hygiene are essential aspects of modern life. Cherkasy Autochemistry Plant joins the COVID-19 world countermeasures with the release of its own line of products for hygienic treatment of hands and surfaces of VIRUSAFE brand. The production is already set up and running at full capacity. The quality control of Cherkasy Autochemistry Plant products is carried out in the laboratory equipped with advanced technologies.
Company's specialists prepared regulatory and technological documentation and received hygienic certificate. It confirms that the products meet the sanitary and hygienic standards. The company's technologists have developed a formula of disinfectants that can be used for a wide range of activities. Due to their effective disinfectant properties, the sanitizers reliably destroy pathogenic microorganisms. Next generation products are able to both slow down and completely stop the development of a large number of infections caused by different sources.
Cherkasy Autochemistry Plant offers wholesale of ready-to-use hand sanitizers and hygienic surface cleansers at an attractive price. Products are presented in more than ten variants of packing in canisters of company's own production: 0.225 l, 0.33 l, 0.45 l, 0.48 l, 0.95 l, 1.45 l, 4 l, 5 l, 10 l and 20 l. We offer manufacturing of Private Label hygiene products on a turnkey basis – from product formulation to label design. The company practices an individual approach to each client, which will include selection or development of formula, selection of packing materials, dispensing, creation of a label and manufacturing. The availability of our own laboratory, powerful production and high professionalism of specialists allow producing of goods of the highest quality. Specially designed disinfectants are the best choice for the effective control of pathogens.
ADVANTAGES OF VIRUSAFE SANITIZERS
The use of disinfectants plays an important role in health issues and is crucial in helping the immune system to counteract harmful external influences. Use of disinfectant is a great way to minimize the risk of infection. Today it is a daily routine for everyone.
VIRUSAFE hand sanitizer dries quickly and does not require washing. It is suitable for hygienic daily antiseptic hands cleaning. It does not dry the skin.
VIRUSAFE hygienic surface cleanser is used for the hygienic treatment of glass, plastic, wooden and metal surfaces. It is also suitable for furniture (except for upholstered furniture), appliances, stairs, doors, etc. It is used for treating of industrial equipment. The cleanser can be used for cleaning of parts, degreasing and surface treatment before applying of various types of coatings. Suitable for home use and processing.
WELCOME TO COOPERATION!