New line of VAMP Pro antifreezes – to the 25th anniversary of the VAMP brand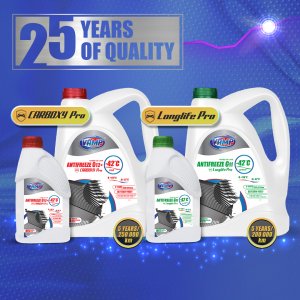 On the occasion of the 25th anniversary of the VAMP brand, the Cherkasy Autochemistry Plant presented a line of professional VAMP Pro antifreezes based on monoethylene glycol with a multifunctional additive package - Alpha TRIventol.
The new VAMP Carboxy Pro Ct12+ and VAMP Longlife Pro Ct11 line is suitable for all specifications and models of modern Volkswagen, Ford, Mercedes-Benz, BMW engines. Professional antifreezes have passed a full cycle of arduous tests under the supervision of German specialists from the partner company AutoChemie Bitterfeld GmbH, an expert in the production of antifreezes. VAMP Pro coolants are high-tech products formulated using the Alpha TRIventol innovative additives package, which provides stability, reliable protection and highly efficient engine operation. Alpha Triventol extends the life of antifreeze without changing its effectiveness. The wide operating temperature range from -42 to +110 degrees Celsius guarantees exceptional protection against freezing and overheating.
VAMP Pro - high quality products and performance properties, new design and a wide selection of packaging!
Protection of the cooling system under extreme weather and temperature conditions up to -42°C.
Optimum thermal conductivity.
Protection of metals from corrosion.
Prevents the formation of local overheating.
Extended service life.
Endurance under high-temperature regimes of modern engines.
Contains a fluorescent component
Inert to elastomers and polymers.
VAMP CARBOXY PRO CT12+
Professional antifreeze, manufactured using OAT carboxylic acid technology, based on ethylene glycol. Provides an extended antifreeze replacement period - up to 5 years or 250 thousand kilometers. New generation coolant with corrosion inhibitor packages based on the composition of salts of mono and dicarboxylic acids (carboxylate technology). It has a high heat transfer coefficient, since it forms the thinnest, more reliable protective film. Effectively protects all parts of the engine, including aluminum ones, against corrosion. It has a high heat capacity and protects the cooling system from cavitation damage. The presence of a multifunctional additive package prevents the formation of corrosion and increases the refrigerant life, reducing the time for a complete replacement of antifreeze.
VAMP LONGLIFE PRO CT11
Professional antifreeze produced by hybrid technology (H-OAT) based on ethylene glycol. Provides an extended antifreeze replacement period - up to 5 years or 200 thousand kilometers. The multifunctional additive package ensures the stability of all performance characteristics. Effectively protects all engine parts from corrosion, prevents engine overheating.
The use of the Alpha Triventol multifunctional additives effectively eliminates typical problems for car cooling systems. The components of the cooling system, especially the radiator, work in comfortable conditions, which significantly increases their resource.
The Alpha Triventol additive package consists of three groups of active ingredients:
The first group of additives provides anti-corrosion, anti-cavitation and anti-foam protection.
The second group reliably lubricates and protects against cracking and leakage.
The third group optimizes the temperature characteristics.

VAMP Pro antifreezes significantly outperform traditional coolants in terms of service properties.