​Ukraine's State Flag Day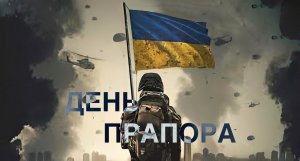 The blue and yellow color combination serves as symbols of Ukraine in their modern interpretation: blue symbolizes the clear sky as a sign of peace, while yellow represents ripened wheat fields as a symbol of prosperity.
Today, the Ukrainian flag is not only a national emblem but also a significant symbol embodying freedom and struggle. The flag emerges in liberated villages and cities across Ukraine. Recall the brave inhabitants of Kherson and Energodar who, despite all threats, marched with flags to peaceful protests against the occupier in February-March 2022, installing them atop the city's highest points, finally unfurling in Kherson in November 2022. On April 9th, 2022, the flag was raised at the Kharkiv Regional State Administration. In the same year's summer, Ukraine reclaimed control over Snake Island, and the national flag once again shone there. The flag welcomes, envelops those liberated from captivity, greets those returning home, and accompanies on the final journey. Ukraine's State Flag is a symbol of the return of all historical lands of Ukraine. Every August 23rd, as Ukrainians hoist the blue and yellow flag on flagpoles, they honor the past and express aspirations for unity, peace, and prosperity in the present and future. May Flag Day unite and inspire us for new accomplishments and victories! With the best wishes, Team of LLC "Cherkasy Autochemical Plant"