Brake fluids DOT-4 VAMP. Advantages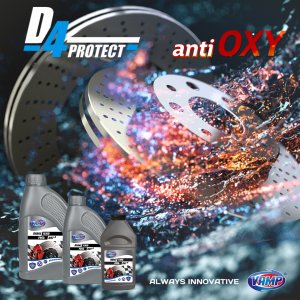 Brake fluids by Cherkasy Autochemistry Plant have been tested by millions of car owners for years. They are designed for use in all disk and drum brake systems as well as for clutch systems of light vehicles and trucks.
Brake system is one of the most important systems affecting safe vehicle operation. For the efficient operation of the brake system it is important to be focused on brake fluid, the choice of which much depends on the type of brake mechanisms, their operation mode, parts materials.
DOT-4 VAMP brake fluids is a composition of glycol alcohols and ethers with the addition of high-boiling, plasticizing, anti-corrosion additives.
DOT-4 VAMP brake fluids have D-4 PROTECT complex for rubber component protection that prevents rubber parts from early wear. Thanks to the use of anti-corrosion additives brake fluid is compatible with all types of rubber materials used for brake system parts manufacture. So that in case of long contact with rubber packing rings, fluid molecules can enter rubber and rubber ingredients can enter the brake fluid. Depending on the prevailing process, either rubber swelling or shrinkage can occur and this can cause failure of the brake system. The brake fluids are also inert to metallic parts of the system.
It is necessary to mention low corrosion activity of the fluids that is provided by antiОxy complex in the composition that neutralizes moisture penetrating the brake fluid. The complex composition includes amines that ensure antioxidant influence.
The brake fluids are characterized by hygroscopicity — it is the capacity to absorb water from the environment. The contact of the brake fluid composition with the moisture can occur for different reasons. For example, in most hydraulic brake systems, the brake fluid tank plug has an opening that connects with the atmosphere, through which moisture can enter. However, hygroscopicity has its positive effects. The anti-oxidant complex in the composition should protect brake systems connected with the atmosphere from water in free state by bounding it chemically that prevents from air-stream lock creation over a range of operating temperatures.
Due to the fluid property of moisture absorption, when testing brake fluids there is boiling temperature of the "wet" fluid containing 3.5 % water along with the boiling temperature of the "dry" one. The boiling temperature of the "wet" fluid indirectly characterizes the temperature at which the brake fluid will boil over a long operation period in the hydraulic brake actuation of the car. The stability of physical and chemical properties should prevent from parting, foaming and formation of deposit in the fluid both during operation and storage.
BRAKE FLUID ADVANTAGES
High boiling temperature of both dry and wet fluid.
Stability of viscosity-temperature properties over a wide range.
Low freezing point.
Ensure high braking efficiency even in extreme conditions.